Exhibition of Achievements of National Economy
Exhibition of Achievements of National Economy
Address: Moscow, Mir avenue, 119, "VDNH".
Exhibition of achievements of national economy - the largest exhibition, Museum and recreational complex in the world, one of the most popular public spaces in Moscow. The site of EXPO successfully continues the long tradition of the Main exhibition of the country, supporting the priority for VDNH exhibition activities and developing its own congressional direction.
VDNH EXPO is an effective platform both for business development and for the implementation of state and socially significant programs. Exhibition halls the area of the EXPO No. 75 and 69 have a total area of 40000 sq. m. there are state of the art multifunctional rooms equipped with the latest technical equipment for events of various formats.
Every year at VDNH EXPO runs more than 100 trade fairs and 350 Congress events, which was attended by more than 25,000 companies from 70 countries, as well as dozens of festivals and celebrations. A team of professionals VDNH EXPO organizes large private projects, provides a wide range of services for the preparation and conduct of the guest events - from design and construction stands up to the customs and freight forwarding support, from business programs to advertising and PR support.
Located in the historical part of the city, proximity to the centre, convenient access roads, wide choice of hotels in various price categories, restaurants and cafes - all this makes the area even more attractive for Muscovites and guests of the capital. Each year VDNH EXPO is visited by about 1.5 million people.
Exhibition and Congress possibilities of the exhibition center VDNH EXPO:
Pavilion є 75:
- 3 exhibition halls with the exhibition area of 14700 sq. m 6900 sq. m, 1690 sq. m.
- 10 meeting rooms (including VIP room) with a capacity of 50 to 720 people.
Pavilion є 69:
- 2 floors with a total exhibition area of 8500 sq. m and 7,500 sq. m.
- 4 conference halls with a capacity of 80 to 400 people.
---
Transport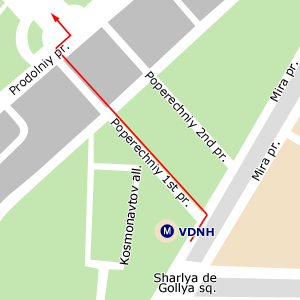 Venue access:
By public transport:
Metro station "VDNH", then a few minutes walk to the main entrance.
By car:
On the outer side of the Garden Ring to turn on Prospekt Mira, next to the metro station VDNH..
The scheme of passage or travel by commercial bus at the all-Russian Exhibition Centre to the right of the pavilion can be viewed on the Notice Board immediately after the entrance to the exhibition center.