Palace of entertainment and sports n.a. G.S. Titov and Regional Legitimate Drama Theatre
Palace of entertainment and sports n.a. G.S. Titov and Regional Legitimate Drama Theatre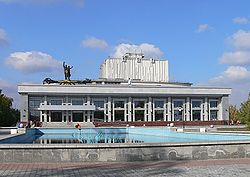 Address: 93, Socialistichesky avenue, Barnaul town, Russia.
Exhibition floor space: Net 1358, Gross 4750
Conference halls:
Average floor space of 1 conference hall is 60 sq.m.
Maximum possible number - 3
Parking.
Address: 15, Molodezhnaya st., Barnaul city, Russia.
The theatre large audience hall capacity is 852 seats. Audience hall of the small stage accomodates 48 people. The chamber music hall is designed for 188 seats.
The Legitimate Drama Theatre has theatrical lyceum for students, permanently open museum exposition on the theatre history, art and theatre exhibitions are held there.
---
Transport