Trade and Exhibition Center "Tishinka"
Trade and Exhibition Center "Tishinka"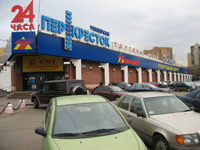 Address: Tishinskaya square, house number 1, building 1, Moscow.
The building of the trade and exhibition complex "Tishinka" is performed in the form of a pyramid and impresses with its huge internal space and modern European interior. The complex has 3 stories.
The supermarket "Perekryostok", the automobile showroom "Renault", the shop "Nastroyeniye" and the territory of hobby and creativity "Manufaktura" are situated on the first floor.
The second floor attracts with remarkable boutiques. There are everything that a family needs: fashionable clothes and footwear, leather and fur goods, bags, evening wear, lingeries, cosmetics, perfumery. Also there are tavern "Yolki-palki", the restaurant of Japanese cuisine "VABI" and tanning studio "Sun People".
The exhibition center "T-Modul" is situated on the third floor.
---
Transport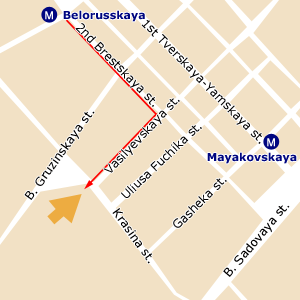 Venue access:
Metro station Belorusskaya-koltsevaya, way out to Belorussky rail terminal, trolleybus stop near the chemist's shop 36.6, then to the second stop "Tishinskaya ploshchad" by the trolleybus № 54.
Or on foot from the metro station Belorusskaya-koltsevaya along the 2nd Brestskaya street to Vasilieskaya street, then along the Vasilieskaya street to Tishinskaya square.
By road: from the square of Belorussky rail terminal along the 2nd Brestskaya street (one-way movement), turn to the right on second traffic light to Vasilieskaya street which goes to Tishinskaya square. Trade and exhibition center "Tishinka" is seen in the direction of the traffic in the end of the street.